Schotenröhr™ catalogue
Rüscho-Schotenröhr GmbH
Westring 225 · 44579 Castrop-Rauxel

Tel. + 49 (0) 2305 44579-0
Fax + 49 (0) 2305 44579-50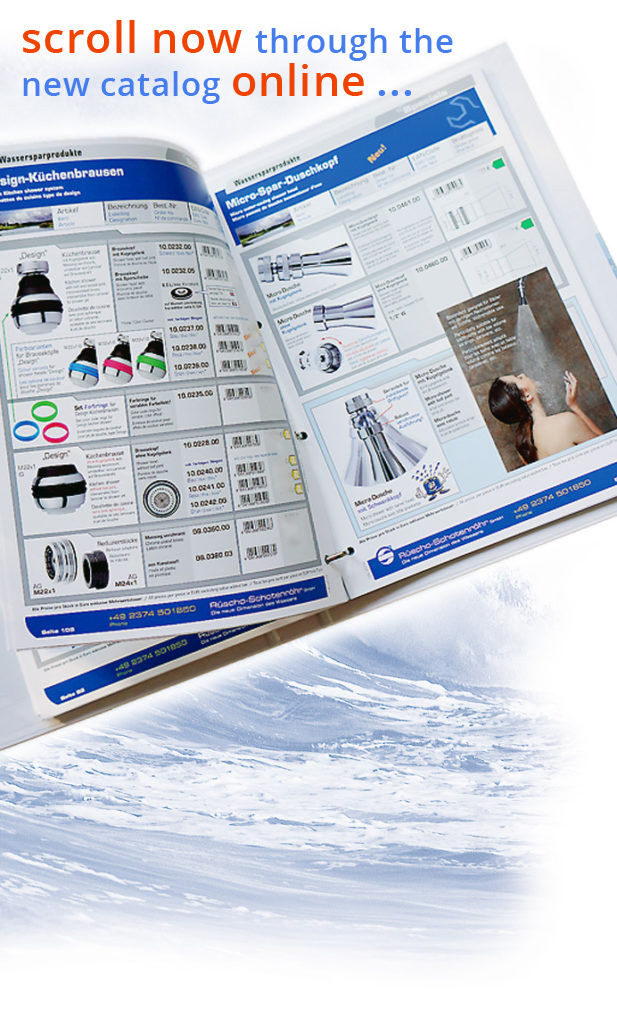 Our entire aerator and sanitary catalogue by Schotenröhr™
Please enter your address as well as your name and the name of your company here. We will be sending a catalogue as soon as possible.
Order our entire aerator and sanitary catalogue by Schotenröhr™ here. Our catalogue contains detailed information about all our sanitary products, our company itself and valuable service information.
Browse the catalog online now …
Experience the new catalog 2019 live in a clear preview.
Simple topic selection with table of contents, page overview, word search function over 143 pages, and much more.
Catalogue: content and news
• More than 700 water-saving products
• Detailled pictures for all aerators and accessories
• Extended labelling for most of our product groups
• New "Eco-traffic lights" for an easy economic efficiency overview
• Corporate production until point-of-sale
• Sterionuklide™-technology for reduced bacteria, virus and algae contamination
• Whirlator®-technology with example of use (limescale protector!)
• OEM quality for the aftermarket
• Customer oriented production and individual fabrication
• Custom-made products and smaller quantities
• Individual colouring
• Individual packaging
• All products "quality made in Germany"
• A lot of new products, such as adapters, shower- and sink- heads
• New service packaging and service keys

A complete product catalogue with 144 pages, product pictures and all important information to our products and materials. Take your time and study our portfolio, find information about production and services. You will also find a form for ordering our products included. Our product catalogue is available as PDF for digital use as well.