Certificate / Seal of approval
TÜV Certificate /according to DIN EN ISO 9001:2015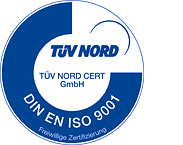 Rüscho-Schotenröhr GmbH approves its products according to certificate DIN EN ISO 9001:2015. Furthermore our products fulfill extensive hygienic recommendations.
Saving water without loss of comfort
Comfortable products for the modern bath, premium kitchen or special requirements for hospitals, nursing homes, hotels and so on, all of these have one thing in common: the need of high quality and hygienic security. With more than 50 years of experience Schotenröhr™ reliably fulfils its role as a premium manufacturer of flow controllers and sanitary equipment with its "new dimension of water". Our customers have the highest demands on materials, quality, production, technology and function. Our certified production (current certificate ISO 9001:2015) and controlled quality and hygiene are the basis for our success and development of market-oriented security. The Schotenröhr™ brand fulfills highest international standards on hygiene, produces versatile accessories for the European and international market in German OEM-quality.
Market-oriented products are not only comfortable, but also safe products to combine hygiene and water-saving functionality. The most important attributes of all Schotenröhr™ flow controllers are listed as follows:
TZW Center of Water Technology (Technologiezentrum Wasser)
All Schotenröhr™ products have been tested towards quality and compatibility to drinking water standards according to KTW guidelines of Germany's federal office for environment. All tests reveal our products as harmless and uncritical. Besides emission testing, taste, smell and foam creation were tested.
LGA seal of approval
Schotenröhr™ Premium-aerators have been sound-tested by Germanys Landesgewerbeanstalt (LGA) according to DIN 52218 and DIN EN ISO 3822-4 and licensed as sound category 1 product. More information to be seen in our product catalogue.
Microbiological certificate by Marburg's Philipps-University
Safety-testing by the "Institut für Medizinische Mikrobiologie" (institute for medical microbiology) at Philipps University Marburg ensures risk-free water jet technology in hospitals, day clinics, nursing homes and doctor's practices – and already in 3rd generation of improved effectiveness. The special laminar jet technology prevents germs being transferred into the air from any contaminated water.
©Rüscho-Schotenröhr