Accessories + water-saving products
Saving water, guiding water, connecting water …
… find your solution here!
Here you will find information about ball and socket joints, tap extensions and tap hoses for the functional sanitation. Our range of products is completed by different nozzles in well-known S, HU and U shapes. We are also offering a wide range of helpful tools for regular use. Our portfolio is continuously widened, helping to save water, secure armatures and use our nature given resources responsively. Take a free tour by ordering our product catalogue with more than 50 pages of useful accessories.
Practical solutions!
Particularly suitable for bathrooms with lesser space as on ships, caravans etc. is our new micro-shower with ball joint. Making use of the PERLFIX® mounting system, our micro shower is perfectly suited from handyman to retail.
Accessories and water-saving products overview
Schotenröhr™ offers a wide range of solutions for armatures, shower heads, taps and any water connection.
A first glance on our products and product themes: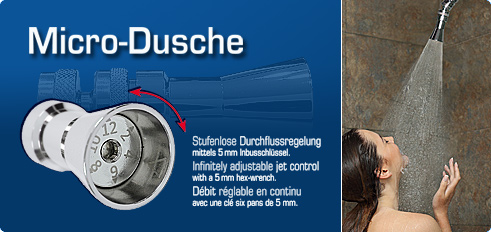 • Ball-joints
• Discharge hoses
• Reducers
• Water-saving products
• Flow restrictor
• Kitchen showers
• Shower heads
• Toilet waterstop
• PERLFIX shower mount
• Service-packaging
• Service-keys
More sanitary tools and solutions to above mentioned products here:
Order our new product catalogue for free here.
Ask for more solutions.